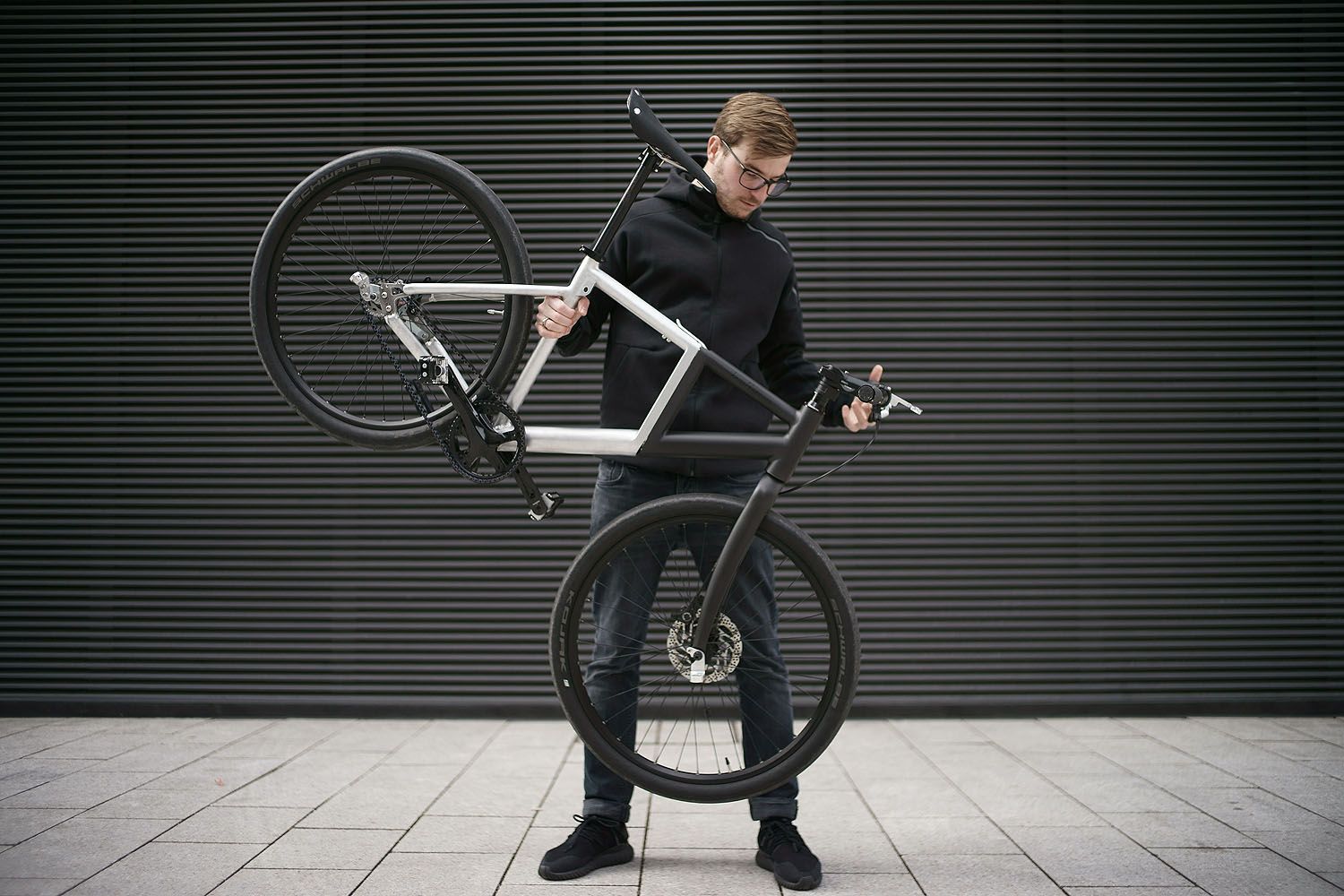 The folding bike reinterpreted
The start-up Kruschhausen Cycles was founded 2016 by Tobias Kruschhausen. After five years as a product designer in an agency right in the middle of Stuttgart and having lots of experience in product development, he finally decided to go self-employed to develop and realize his vision of a modern folding bike. The result is the Fiiz, an innovative alternative to the well-known folding bicycle.
As an enthusiastic cyclist, Tobias knows the problems you can get on daily urban cycling trips with a "normal" bike. For example, the bike can't be taken into the subway at all times of the day. And if it's possible, you are an obstacle for other passengers. Also, the option car sharing – e.g. when it is raining on the way back – is not available. Those personal experiences led Tobias to think about the perfect folding bike. The focus of the most folding bikes on the market is about the minimal folding size and less about design or riding characteristics. The Fiiz should become different – exceptional riding characteristics and a clean design combined with a practical folding size.
Our ambition – top design and top riding characteristics
Kruschhausen Cycles stands for innovative folding bikes. Everything started with the ambition to create an attractive, classical looking bike, which is still foldable – or better splitable – to be easily transported everywhere. With the Fiiz we designed a modern folding bike which combines the advantages of the classical diamond frame geometry and the benefits of a folding bike. Stylish and practical at the same time – this is how the new folding bike should be! That's why we focused on a minimalistic design and highest functionality. We kept it pure, simple and easy to handle, ditching the unpleasant hinges and not needed frills. With the Fiiz, we found a new solution which allows a very flexible kind of mobility in urban spaces.
The Fiiz brings you everywhere
The Fiiz is not a traditional folding bicycle. It is so much more than that – a full-featured bike with 26- inch wheels to get you anywhere and everywhere. A high-quality design is our top priority! For us, good design goes beyond styling and beautiful shapes. We understand design as a perfect composition of ergonomics, functionality, sustainability, responsibility, aesthetics and character. The Fiiz is the consolidation of all these principles. For us, bicycles are more than just a form of transport. Especially in the urban jungle, a folding bike is a great alternative or addition to a car.
We are enthusiastic cyclists and bicycles are part of our lifestyle. Riding our bikes is how we stay active and help the environment at the same time. Let's face it: more bikes mean potentially fewer cars on the streets. With the Fiiz we created a new folding bike concept which is an enhancement to the existing mobility offers in urban spaces and a contribution to environmental sustainability.